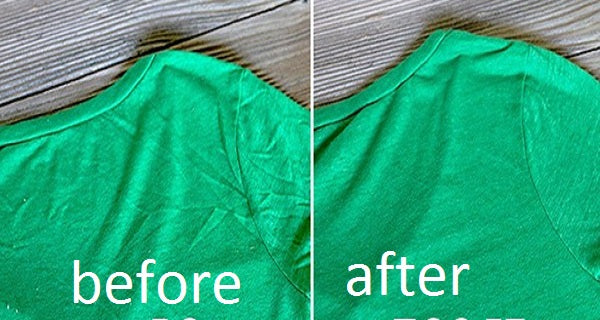 No Iron? – No Problem. Here is How To DIY the Emergency Spray
Ironing clothes are not the thing every woman wants to do. But we have to. If we don't do it, who will? Our husbands?
I don't think so.
They would rather sit all day and stare at the TV than iron clothes. To be honest, I would do the same thing.
I was very fortunate to get a girl so sometimes she helps me with the "women stuff" around the house.
We forget, though. One thing gives us constant concern. And that's whether we turned off our iron or not.
Oh. Yes. There is another thing, as well. When we are going camping we always forget the iron. I mean that's like a disease or something. Every woman forgets to bring an iron or a hair blower.
Does this sound familiar?
For all those who suffer from the same problems, I finally found the solution to it.
It comes in a spray bottle and you can do it by yourself.
Here is what you need:
     1 tbsp. of Fabric Softener
     1 tbsp. of Alcohol Vinegar
     400 ml. of Distilled Water
     Empty Spray Bottle
How to prepare it:
     Mix all the ingredients and put them in the spray bottle.
     Shake
     Use
How to apply it:
To make this spray fix the clothes wrinkles, you need to spray them on the wrinkled clothes.
After that, straighten the clothes with your hands and hang them on the hanger. Wait for them to dry out. They will be flat as new.
Try this the next time. It will help you out. You are welcome.
Don't forget to share this with your friends. They could use it, too.