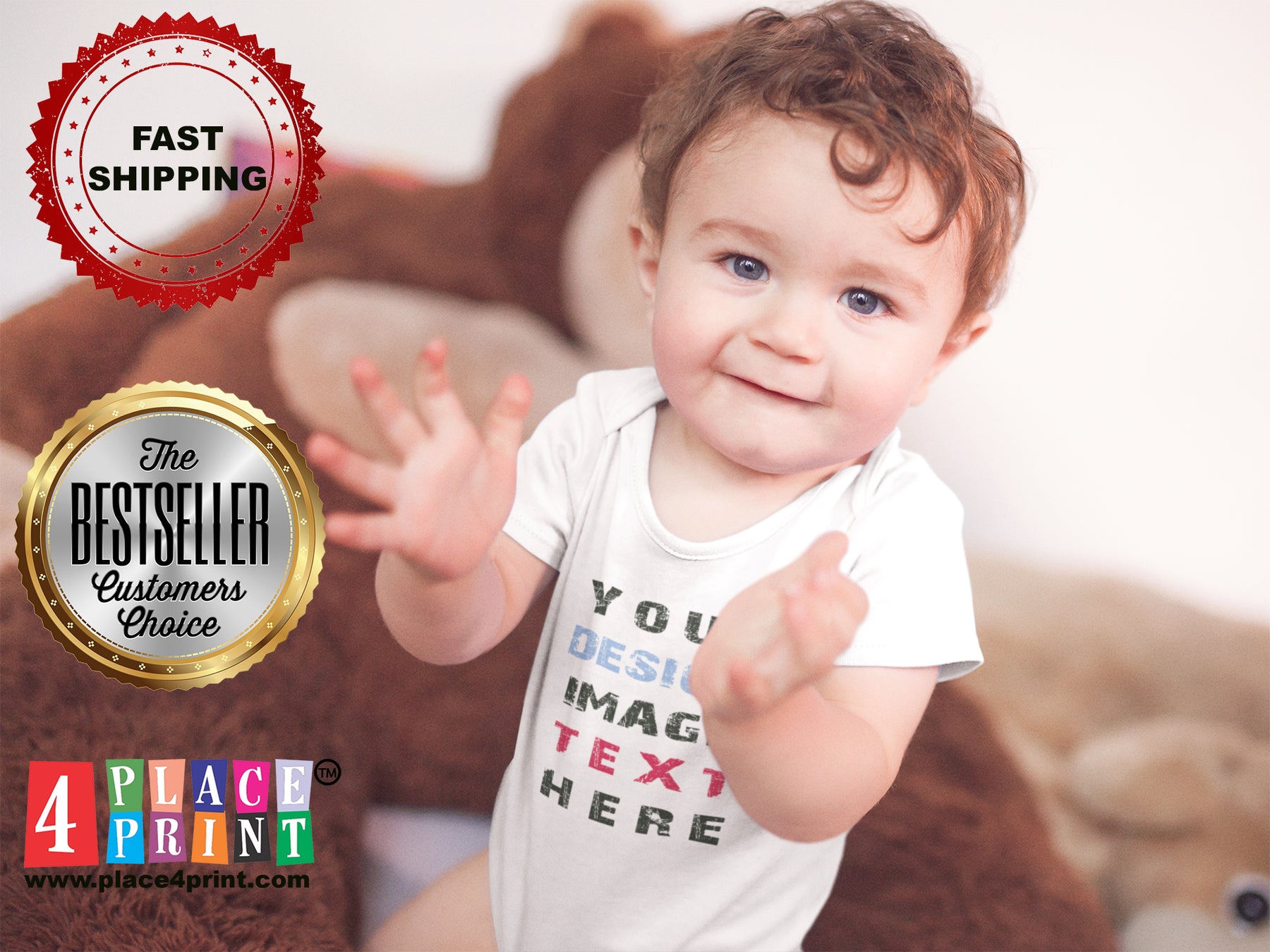 Custom Baby & Infant T-Shirts, Rompers & Onesies – Design Online at Place4Print
A baby is a wonderful addition to the family. They are bundles of joy that can make anyone cheer up. In order to keep these precious bundles the most comfortable, we try to give them the best this work has to offer. Therefore, when it comes to clothing, we are incredibly careful in choosing the different items. Apart from buying quality stuff, people also like to get creative when buying baby clothes. So customized shirts, onesies and bibs with screen printing, embroidery, and more are quite common. Nowadays, it is not difficult to buy customized items either. For example, you can simply run a search for embroidery near me to get any baby item custom embroidered.
In today's article, we discuss on how to choose the best onesies for your baby or as a new born gift. Of course, you should know what exactly the size of the baby is, which can be determined by how many months old the new born is.
Here are some other factors to consider when buying onesies for the babies:
The quality of the fabric should never be compromised. New borns and babies, in general, have sensitive skin. This can become irritated easily if the cloth is abrasive or of poor quality
Make sure that you buy from a reputable shop. It is suggested to buy branded onesies and not just from any store. The store should have hygienic conditions so the cleanliness of the items is compromised in no way
When considering the sizes, it is possible that there is no standard. Some brands may have varying sizes from another for the same age of the baby. The difference could be very slight though. However, you can be careful while choosing if it matters
Since we are talking about the size of the clothes, it is suggested to buy larger sizes as well. Babies grow fast and will soon overgrow their onesies. Having larger sizes at hand is quite helpful. In a similar fashion, you should care to buy onesies for varying seasons
Onesies can be paired with bibs. It simply adds to the creativity and convenience of dressing the babies. You can buy a

 

new born bib

 

or order a

 

custom bib

 

in case you are buying a customized

 

new born gift
If you are buying for a baby that is yet to be born and the gender is a surprise, then stick to neutral colors. You will find plenty of baby-friendly colors that suit both the genders. And it kind of slips away from the well-worn path of pink and blue too
If you are planning to buy customized new born gift onesies for a baby, then you should have a place for getting quality customization. Fortunately, you can hire Place4Print to do the job. We not only do screen printing but embroidery as well. We entertain rush orders too. Therefore, if you have a gift in mind but not enough time, we can solve the problem for you.